Ingrid Jackson is an entertainer, writer and comedienne. TheNutsLoose.com * Make sure to follow her on Facebook @ https://www.facebook.com/TheNutsLoose and on Twitter @ingrid_thenut
Posts Tagged Huffy
See on Scoop.it – Today In The News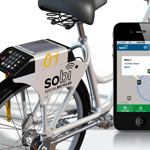 Five years ago, Ryan Rzepecki was riding the streets of New York City on a child-sized Huffy bike he borrowed from a friend. Today, Rzepecki is hoping to change the way everybody shares bikes.
See on news.yahoo.com
Related articles
Bicycle, Bicycle sharing system, bicycles, bike, Huffy, In the News, New York, New York City, Ryan Rzepecki, Rzepecki, United States
Error: Twitter did not respond. Please wait a few minutes and refresh this page.